OKAY PEOPLE!!!
One of my friends sent me this incredible recipe because she knows how much I LOVE sugar cookies and all things pumpkin... Since it's the first day of October and spooky season has officially arrived, I decided to share this recipe with all of you!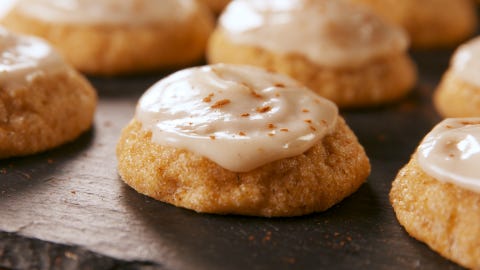 INGREDIENTS
FOR THE COOKIES
2 1/4 c.all-purpose flour
1 tsp.baking soda
1 tsp.pumpkin pie spice 
1/2 tsp.kosher salt
1 c.(2 sticks) butter, softened 
1 1/4 c.granulated sugar, plus more for rolling
1/2 c.pumpkin puree 
1large egg
2 tsp.pure vanilla extract 
FOR THE FROSTING
1(8-oz.) block cream cheese, softened 
2 c.powdered sugar 
1 tsp.pure vanilla extract 
1/4 tsp.ground cinnamon, plus more for sprinkling
Pinch kosher salt 
DIRECTIONS
Preheat oven to 350° and line two large baking sheets with parchment paper. In a medium bowl, whisk together flour, baking soda, pumpkin pie spice, and salt. 
In a large bowl using a hand mixer, beat butter, sugar, pumpkin, egg, and vanilla until combined. Add dry ingredients and stir until just combined. 
Scoop a tablespoon of cookie dough then roll in sugar. Transfer to prepared baking sheet and repeat with remaining dough, spacing cookies 2 inches apart. 
Bake until cookies are lightly golden, about 10 minutes. Let cool completely. 
Meanwhile, make frosting: In a large bowl, beat all ingredients until smooth and creamy. Frost the top of each cookie with cream cheese frosting and sprinkle with cinnamon. 
--------------------------------------------------------------------------------------------------------------------
Amazing right?! I can't wait to make these and have my home smelling of fall and my belly full of cookies! Enjoy!
Courtesy of Delish.