 Channing Tatum Reunites with Jenna Dewan to Take Daughter Trick-or-Treating After Divorce Filing
Channing Tatum and Jenna Dewan reunited in support of their five-year-old daughter, Everly for a night of trick-or-treating on Wednesday evening. The former couple had been married for 8-years and filed for divorce on October 22nd. Tatum shared the family outing on his Instagram stories, he dressed up as the genie from Aladdin and Dewan dressed up as Cleopatra. Tatum reveals he love of Reese's Peanut Butter cups as he playfully tells his daughter to "Give me all of your Reese's! I can smell 'em on you." Tatum and Dewan seem to be keeping their promise to remain friends, in a joint statement on Instagram the couple wrote, "We are still a family and will always be loving, dedicated parents to Everly."
Ariana Grande Responded to Pete Davidson's SNL Promo Quip About Their Breakup, and OMG!!!
By now you know that the power couple of the year has called it quits, Ariana Grande and Pete Davidson broke off their engagement but that hasn't stopped Pete Davidson from talking about it. In the promo for this week's SNL Davidson asks musical guest, Maggie Rogers to marry him, when she says "no" Davidson says, "Oh-for-three!" obviously poking fun at his breakup with Ariana. Ariana took to Twitter to give her opinion on the promo and who knew she could be so savage, "for somebody who claims to hate relevancy u sure love clinging to it huh," Ariana wrote. Ouch!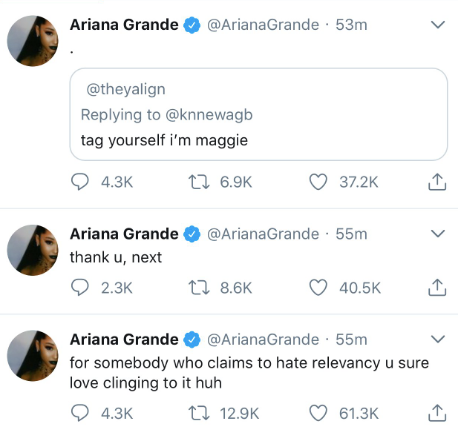 Target Unveils "Skip-The-Line" Tech For Black Friday
Target is implementing technology on Black Friday that is being touted as a "game changer." I'd go as far as to call it a family saver as well. While many stores will open their doors to shoppers on Thanksgiving evening, bargain hunters will be able to get back to their loved ones sooner thanks to the retail giant's new "skip-the-line" feature. Target employees, armed with handheld scanners, will ring up purchases and take credit card payments right from the carts, allowing customers to avoid the inevitable giant lineups at the register.Extra team members will be stationed in the electronics department, as the company knows that is generally the busiest part of the store on Black Friday.
"Gladiator 2" Is on the Way
"Gladiator 2" is a go with Ridley Scott returning as the director. The next installment will focus on Lucius, the son of Lucilla, and the nephew of Joaquin Phoenix's character Commodus. Although Russel Crowe's character Maximus died in the first movie, Lucius will be influenced by Maximus in the sequel. There aren't more details than that about the film so far, but more details are coming soon.
Why Was Justin Bieber Seen Weeping With Hailey Baldwin
Either Justin Bieber was extremely moved by something related to Harry Potter or he was going through some other emotional issue. People are trying to figure out why Bieber could be seen weeping and being comforted by his fiancée in an image of the two captured during a recent visit to a Harry Potter-themed restaurant at Universal Studios in Orlando, Florida. In the photo, Bieber was caught on camera burying his head in his hands as Hailey sought to comfort him. A source says that Justin's security team cleared out the bar as he and Hailey ordered two drinks just after 11:15 PM.
People Climb Out Of Crazy Shuttle Ride
A shuttle bus to a Haunted House event turned into a real-life scare on Thursday night. Dozens of passengers were on a bus from the Aquarium of the Pacific to The Queen Mary in Long Beach, California for their Dark Harbor attraction. The ride is less than 1 mile. The bus driver started going in the wrong direction and wouldn't stop. He also didn't respond to passengers wondering what was happening. People believed that they were being kidnapped. A video shows riders begging the driver to stop. People started climbing out of the bus through the emergency exit windows. The driver did eventually stop and let the rest of the passengers out about 30 minutes away from where they were supposed to be. 911 had been called and sheriffs came to arrest the driver on suspicion of attempted kidnapping.